Clausius Elite
Domestic range
New DHW production system up to 80/85 ºC, patented system.

200 liters of domestic hot water up to 80/85 ºC without electrical heaters.

No specific antilegionella treatment is required.
200l tank made of AISI 316 L stainless steel
DHW production system up to 80/85ºC without electrical heaters through a built in desuperheater
Power ranges 1 to 10 kW / 3 to 15 kW / 5 to 25 kW
COPs 4,8 / 4,61 / 5,01, according to EN14511
EERs 6.5 / 6,4 / 6,8, according to EN14511
Single phase and three phases electrical power supply in all ranges
R410A Refrigerant
Electronic expansion valve
Integrated DHW tank, active and passive cooling.
Built in expansion vessels and security valves
Built in Class A variable speed circulation pumps
Built in energy counters, COP, EER and SPFs
Built in pressure sensors in both brine and heating circuit
Market leading noise reduction enabling flexible plant room location
New control strategies
Control through climate regulation
Control for 2 climate zones
Swimming pool control
Special programs, floor drying, air venting program, etc
Limitation of maximum powers through software
Possibility of cascading up to 14 units
Optional control with "Clausius Advance Control"
Tested one by one in test bench
MODELOS EN LOS TRES RANGOS DE POTENCIA, 1-10 KW, 3-15 KW Y 5-25 KW
| | |
| --- | --- |
| H | Heating and Domestic Hot Water production with built-in deposit |
| HC | Heating, Domestic hot water with built- in deposit, active and passive cooling production |
Elite configuration includes a DHW tank made of stainless Steel AISI 316 with 200 l capacity and built-in desuperheater, which allows to get DHW temperatures up to 80/85 ºC.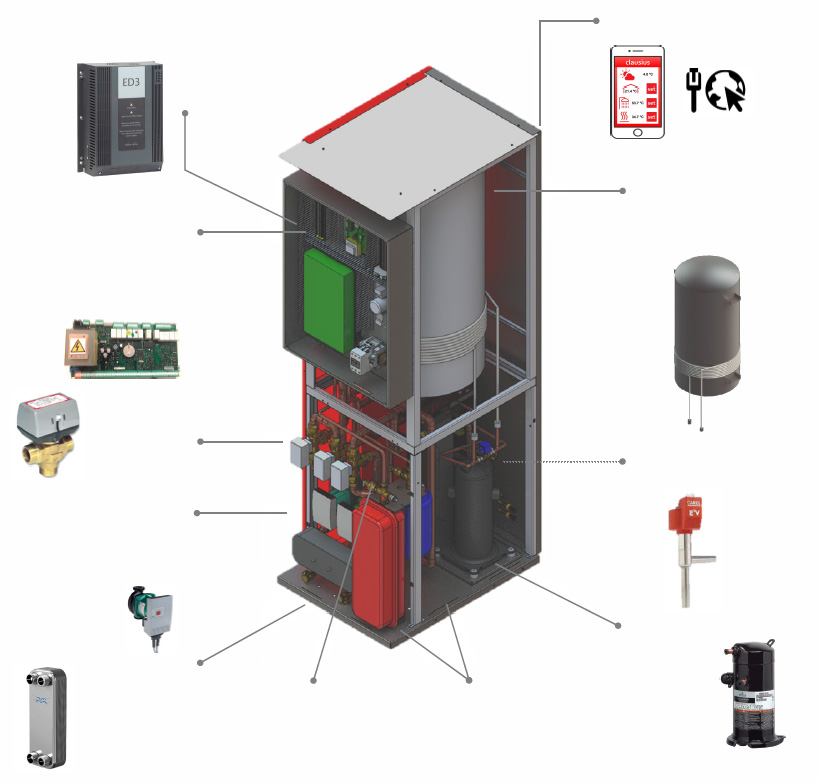 1
COPELAND inverter technology
2
Control with CAREL microcontroller (optional management with "Clausius Advance Control")
4
WILO high efficiency variable speed circulation pumps (Class A)
5
ALFA LAVAL asymmetric plate heat exchangers
6
Pressure sensors in both brine and heating circuits
7
Expansion vessels & safety and drain valves integrated
8
COPELAND scroll compressor
9
CAREL electronic expansion valve
10
 DHW up to 80/85 ºC.
200 l tank in stainless steel AISI 316 L
Documents
Energy labelling, product sheets and technical documentation according to Delegated Regulation (EU) No. 811/2013.